About Us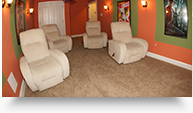 We first opened for business in 1987. We had two pickup trucks, an office at home, and our warehouse was squeezed into a two car garage! Armed with years of experience installing floor covering and a dedication to quality and customer service, we have grown into one of the leading flooring installation companies in Maryland and the surrounding areas of Virginia, Delaware, West Virginia, and the District of Columbia. We work for some of the areas finest custom and production home builders as well as commercial builders, design builders, and remodelers.
In 2004 we opened MR Stone, a state of the art stone fabrication and granite tops manufacturing facility. With the same dedication to quality and customer satisfaction, M.R. Stone has become one of the areas leading granite fabrication and installation companies in just a few short years.
Mission
At Stonemark Flooring, our mission is to be a complete one stop shop for all your high quality floor covering, stone and granite surface installation needs. We are committed to customer satisfaction by providing the highest quality installations using the best quality materials installed by our highly trained, friendly personnel.  And we won't quit until everything is just right!
We offer custom designs, computerized bidding, and sales selection sheets for our builders and customers. We offer a complete selection of name brand high quality hardwoods, carpets, ceramic, stone, and vinyl for your floors, and an extensive line of granites and marbles from standard to exotic selections, available for viewing at any of our three showrooms in Maryland and Delaware! One of our experienced team of field supervisors are assigned to each and every job to ensure you receive the best of our award winning customer service.
We work with you to design a floor covering and stone program which best suits your individual needs. We do this for production homes, custom homes, and even commercial spaces of any size. We also work with design builders, home improvement companies, and individual home owners, with new construction or renovations.
We are only as good as our employees. That is why we work with our staff to maintain the highest level of customer service and training in the latest materials and installation techniques. As a result, our company has received numerous awards for outstanding quality and service throughout the years.